DO YOU 'REALLY' KNOW WHAT IT STANDS FOR CEO?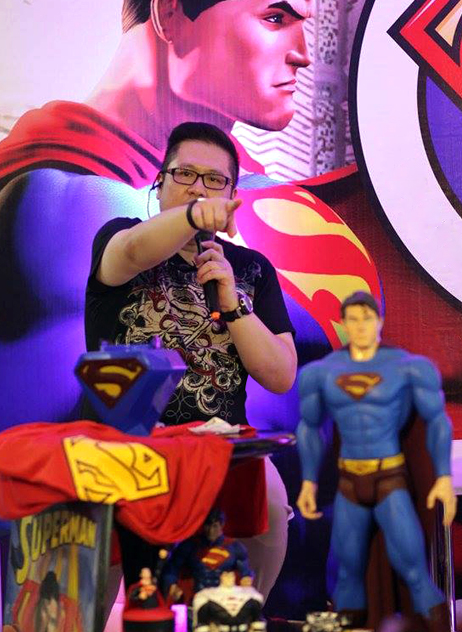 Stephen Sajogo, Photo by Jimmy Olsen.
DO YOU 'REALLY' KNOW WHAT IT STANDS FOR CEO?
Surabaya, 2016. As the founder and CEO of The Entertainerepvblic of Sayogo Incorporated, Stephen Sajogo is a man who is dedicated his life in showbiz and entertainment world in Indonesia.
It began when he was still in school, it can be seen his talents and interests when he organized his own birthday party and his friends' as well. Various kinds of the school and organization events during the period of time had always been involving him in charge of the events.
Since 1990 Stephen founded the company, he has always been involves directly in any event managed. Starting from creating a concept, designing, process of the production, henceforth up to the time of execution of the event, and nothing has been disregard of his attention.
"Some people might consider Stephen as a weirdo choosy businessman, however to us, he is a unique perfectionist artist instead", said his creative team.
"Dream big, start small, act now"
He does not only lead the show team himself in any of the events, but also not infrequently perform on stage as well.
It has more than 2,500 events been presented through his hands of creativity. And from the experiences achieved during more than quarter of a century, Stephen often shares his experiences by being a speaker at several boost seminars and motivating talk shows which are to encourage both the youth at schools and universities, and also professionals which is held by any organization or company.
World economic conditions are up and down which certainly affect in the business of entertainment world. Sluggish entertainment business does not make Stephen to look for or turn about another business. He remains committed to focus on entertainment world.
"Passion and simply dreams alone are not enough. However, we must have commitment and target in running the business", said Stephen.
When he is asked until when he keeps to work in entertainment world, he will answer firm and brief, "till the last breath!".
"Dream big, start small, act now" is the life motto that is always held by this man as the Chief Entertainer Officer of The Entertainerepvblic of Sayogo Incorporated.
by Lois Lane | Staff Writer